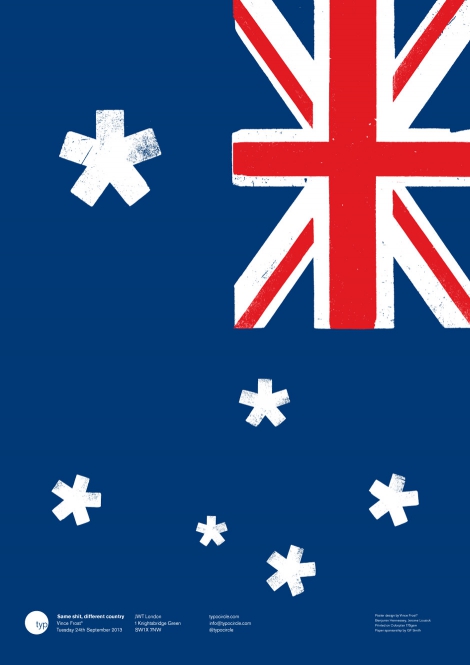 Same Shit, Different Country
Event Details
JWT Building 1 Knightsbridge Green
London SW1X 7NW
24 September 2013 7:00pm
"The grass is not always greener" says acclaimed British designer Vince Frost. In 2004, he packed up his already successful design studio and made the move to Sydney.
"My journey to Australia from london was in search of a better work life balance. Only to discover that my passion for helping people is nothing to do with where I am in this incredible world. Its something that genuinely comes from inside. For many, Australia is a tropical holiday destination. I live in a beautiful country; minutes from turquoise warm waters. But I've never worked harder in my life".
Vince will take us on a retrospective of his past 10 years of Frost* Design – a rare opportunity to see him on this side of the globe.
"Years of counseling, yoga and a number of distraction tactics failed to cure me. I am no longer fighting my internal desire of designing 24/7. I am grateful to live a full and exciting life in which thankfully, making things better is an endless task".
In the early 90's Frost became Pentagram London's youngest Associate Director and after five years at the design industry's best "finishing school", he set up his own London studio, Frost* Design – moving it to Sydney in 2004.
A member of D&AD, the AGI and Honorary Fellow of the ISTD, Vince Frost plays an active role in the global design community. Many awards have come Frost's way, including D&AD silvers and golds from the New York Society of Publication Designers.
Frost's folio was documented in a 500-page book, Frost* (sorry trees). And in 2008, Frost was incredibly proud to be selected as one of the Creative Directors for 'Abundant Australia'. Frost's approach is all about exceptional ideas and adhering to the philosophy that 'anything is possible'.