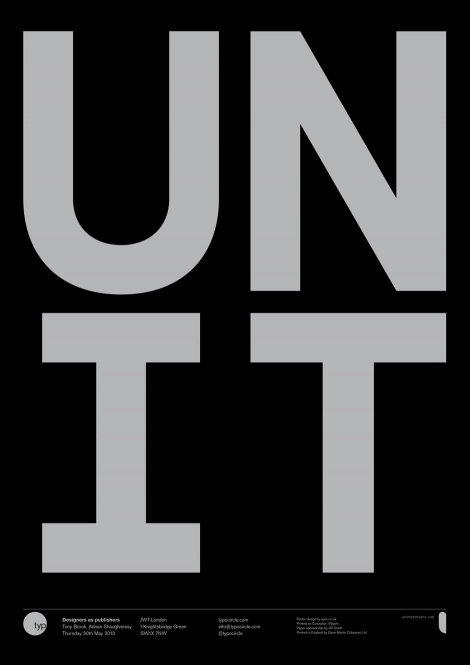 Designers as Publishers
Event Details
St Bride Library 14 Bride Lane
London EC4Y 8EQ
30 May 2013 7:00pm
Unit Editions is a progressive publishing venture producing high-quality, affordable books on graphic design and visual culture.
Founded by Tony Brook (founder and Creative Director of acclaimed London design studio, Spin) and Adrian Shaughnessy (graphic designer, writer, publisher and consultant), Unit Editions brings the notion of the book as a highly designed artefact with rich visual and textual content to an international audience of design professionals, design students and followers of visual culture.
Unit Editions combines impeccable design and production standards with insightful texts and informative commentaries on a wide range of subjects. Their first publication Studio Culture: The Secret Life of the Graphic Design Studioprovided a unique glimpse into the inner workings of 28 leading graphic design studios. In a series of penetrating interviews, the mechanics of building and maintaining a vibrant studio culture are laid bare with disarming frankness.
Other releases have been more biopic in their nature, with past titles celebrating the work of Wim Crouwel, Herb Lubalin, Ken Garland, alongside lesser known names like Jurriaan Schrofer and that of the Polish graphic arts scene.
Away from publishing, both Brook and Shaughnessy are renowned figures in their own right. Alongside Patricia Finegan, Tony Brook has built one of the UK's most iconic modern studios in Spin; producing award-winning work for Five, D&AD, The Whitchapel Gallery and the ICA. Adrian Shaughnessy was Creative Director of Intro for 15 years; the legendary design studio he co-founded in 1989. His book How to Be a Graphic Designer, Without Losing Your Soul has sold over 80,000 copies. He writes regularly for Eye, Creative Review and is a contributing writer to Design Observer.
Unit Editions produces books for designers by designers.