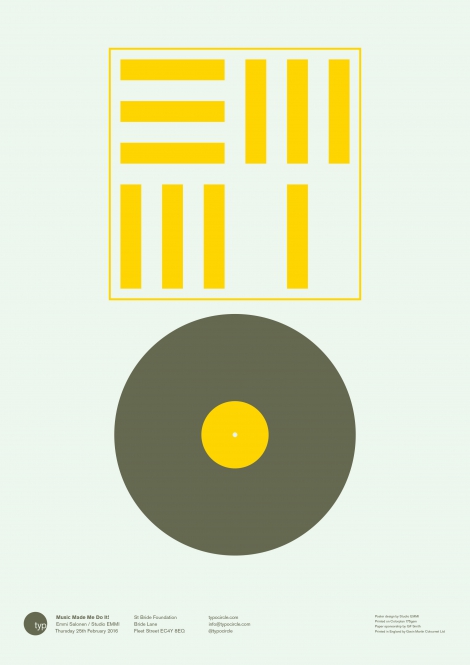 Music Made Me Do It!
Event Details
St Bride Library 14 Bride Lane
London EC4Y 8EQ
25 February 2016 7:00pm
Emmi Salonen's London based graphic design practise, Studio EMMI, celebrated 10 years of business in 2015. (Hurray!) Internationally awarded Studio EMMI has developed a growing client base in the worlds of art, culture, commerce and academia. The list includes Tate Britain, Somerset House, The Prince's Foundation and UCLH, together with a recent addition of The Finnish National Gallery, with their brand new logo.
Emmi is the author of the book Common Interest: Documents, and contributes to industry magazines on topics ranging from typography to women in design. As well as designing, she teaches at various universities based in the UK, and regularly lectures across the country and beyond. Emmi was one of the main stage speakers at AIGA's Design Conference in New Orleans, USA, in October, talking to an audience of 2000+.
As a native of Finland, and armed with the national trait of having a keen interest in nature and common good, Emmi moved to London in 1996. She has earned past professional stripes in Italy (Fabrica), London and New York (karlssonwilker inc.), and has had her work widely published and exhibited world wide.