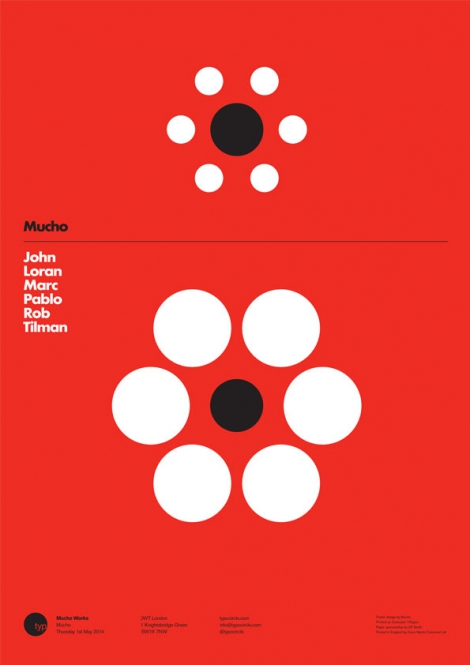 Event Details
JWT Building 1 Knightsbridge Green
London SW1X 7NW
1 May 2014 7:00pm
Mucho is a global boutique visual communications and graphic design studio.
It all started at the Cock and Bottle (the pub next door to Pentagram) where after long hours of hard work John, Pablo, Marc, Rob and Loran amongst others would chat about design hopes and dreams, and future collaborations.
The idea of Mucho was born way before ever being called Mucho. Rob went off to the US. Loran went back to Paris. John stayed in London and eventually moved to Newark. Pablo and Marc remained for a while, traveling between London and Barcelona, going on to found Mucho and moved back to their native Barcelona. Their fellow friend from college Tilman then joined the company in Barcelona. Rob and John, after pursuing solo careers, decided to get together and start Dowling Duncan. Eventually Dowling Duncan and Mucho joined forces to accomplish that initial dream of a collaborative agency working across countries and cultures. Just a few months ago, and after a long history of working on projects with Mucho, Loran joined to lead the Paris office.
Today Mucho has 6 partners, and offices in Barcelona, Berlin, Newark, Paris, San Francisco, London and New York. We have worked with clients in over 20 countries on design projects varying from, branding and websites, editorial, packaging and typography to environments and interiors. We maintain an independent boutique studio attitude but have a global structure and approach to our work. Mucho has worked with local and international clients from HP to Wallpaper, the Observer, John Lewis, Dell, Kodak, Gap and Télérama Magazine.
Engaging in design conversations, sharing projects and friendship is the pivotal idea that makes Mucho work. We understand that together we are much better and stronger than on our own and that collaborating and learning from each other's experiences is the way forward for us and our clients.