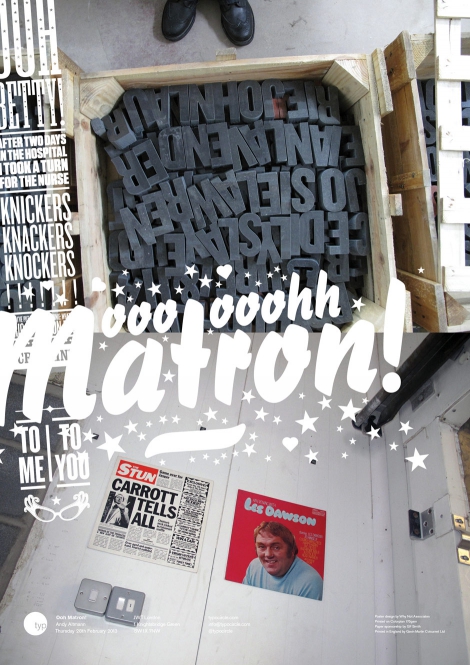 Why Not Associates Ooh Matron!
Event Details
JWT Building 1 Knightsbridge Green
London SW1X 7NW
28 February 2013 7:00pm
Andy Altmann graduated in graphic design from the Royal College of Art in 1987 and almost immediately formed the multi-disciplinary design group Why Not Associates with fellow graduates David Ellis and Howard Greenhalgh. Over the years, the group has gained an international reputation based on its creative and experimental approach.
Why Not Associates has worked on projects ranging from exhibition design to postage stamps via advertising, publishing, television titles, commercials and corporate identity. Its clients include the Royal Academy of Arts, Malcolm McLaren, Royal Mail, Nike, Paul Smith, Virgin records and Channel 4. A 1998 book by Booth-Clibborn Editions documented the first ten years of their work and a second, published in 2004 by Thames and Hudson, covered another five years. The group still strives to push the boundaries of graphic design and recent projects collaborating with artist Gordon Young have moved them into the world of public art.
This talk will focus on one of these such projects; the much-celebrated Comedy Carpet in Blackpool. The piece is a celebration of comedy on an extraordinary scale. Referring to the work of more than 1,000 comedians and comedy writers, the carpet gives visual form to jokes, songs and catchphrases dating from the early days of variety to the present. Sited in front of Blackpool Tower, the 2,200m² work of art contains over 160,000 granite letters embedded into concrete, pushing the boundaries of public art and typography to their limits.