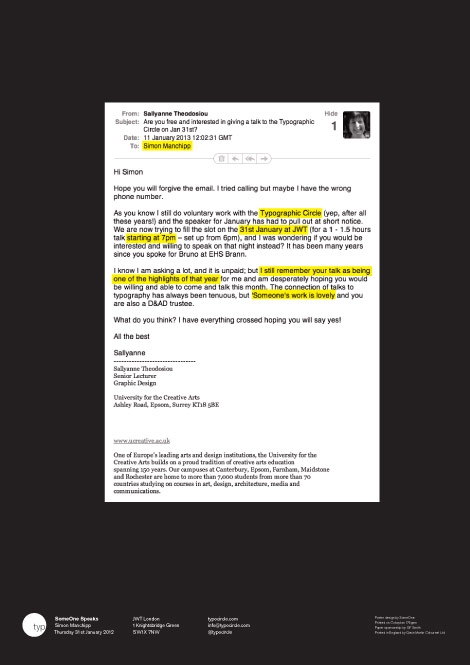 A late, but excellent stand-in!
Event Details
JWT Building 1 Knightsbridge Green
London SW1X 7NW
31 January 2013 7:00pm
In the mid 1990s Simon was made the youngest Parter of HHCL the seminal "Ad Agency of the Decade" after he wrote, animated, and directed the multi-award winning campaign for Go—the low cost airline from British Airways. Simon created the cross-over design and advertising agency NoOne which was funded by HHCL with long-time collaborator and business partner David Law and designer Laura Hussey in 2001.
Simon started the London-based, independent design practice SomeOne, that launches and relaunches brands worldwide, six years ago so that designers and their special blend of creativity can help radically transform the fortunes of products, services and organizations.
Simon's approach to design is to provide a rich selection of creative options for people to enjoy using. He is keen to move branding beyond logo-centric applications, where a new logo is all that exists—SomeOne creates what they call BrandWorlds for products, services and organisations where brand assets other than just the logo can take an active role.
SomeOne has been behind recent brand design work for the Royal Opera House rebrand, the re-grouping of the National Maritime Museum (the largest in the world), The Royal Observatory (The Home of Time) and the Queen's House (the birthplace of British architectural classicism) as Royal Museums Greenwich, the rebrand of the progressive high speed European train company Eurostar, and the launch of Telefónica Digital's 'Tu | Me'  brand.
Simon is a member of the D&AD Executive, an external assessor at Central St. Martins School of Art & Design, London, has written a short course on Typography and is a widely awarded and published voice on design and progressive branding.