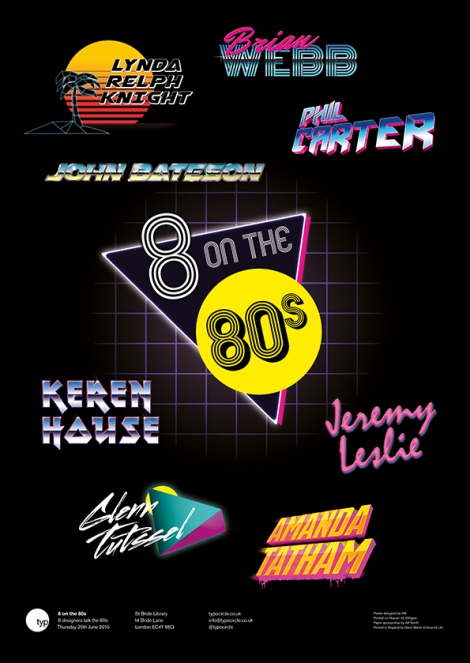 Eight designers talk the 1980s
Event Details
St Bride Library 14 Bride Lane
London EC4Y 8EQ
25 June 2015 7:00pm
Eight on the eighties will be a fast paced talk with a new look at some of the great, but perhaps forgotten work, of the 1980s. It was a time of great change when the word 'design' was discovered along with computers, the Rubic's cube, ET and The Smiths.
All eight designers, who are still making great work, will show and talk for eight minutes – no more, no less on why this was the design decade that changed everything.
Brian Webb
Brian Webb is a graphic designer. He co-founded Trickett & Webb in 1971 and Webb & Webb in 2003. Clients include international companies, arts organisations and publishers.
He is a visiting Professor of the University of the Arts, London, Past President of the Chartered Society of Designers, Fellow of the University of the Creative Arts, has lectured around the world and won countless international design awards. His work has been exhibited in the UK, Europe, USA and Japan and in permanent collections including the V&A and Museum of Modern Art, New York.
Jeremy Leslie
Jeremy created ground breaking magazine work in the 80's as Art Director on the iconic Blitz magazine followed by Art Director at Time Out and then as Creative Director at John Brown publishing .
He is the founder and Creative Director of magCulture – creating, designing, editing and exploring the future of contemporary magazine publishing.
Amanda Tatham
Amanda's first design job was to become Alan Fletcher's assistant at Pentagram from 1975 to 1979.
Since then she has worked for her own design businesses. This included partnerships with other designers, Lambton Place Design and Tatham Pearce, from 1984.
From 1994 she worked as Tatham Design developing creative work for entrepreneurial businesses. Latterly Amanda also runs Designer Breakfasts with designer, Mike Abrahams curating events in partnership with the Design Museum.
Glenn Tutssel
Glenn Tutssel graduated from the London College of Printing and joined the design firm Lock Pettersen. He then became Creative Director of Michael Peters and Partners before setting up his own design consultancy, Brand Union with Martin Lambie-Nairn.
Having sold the Brand Union to the WPP Group, Glenn held the roles of Executive Creative Director and then Chairman before leaving to create his own consultancy Brand Inspiration.
Glenn is also Executive Creative Director of design consultancy Taxi Studio. He has won numerous awards for his work including four D&AD Yellow pencils.
Phil Carter
Phil set up Carter Wong with fellow Phil and RCA graduate Phil Wong in 1984, after working at Minale Tattersfield for three years.
It was at Carter Wong that he learnt the importance of working in a compact studio. However, being a relatively small studio hasn't stopped the company from designing memorable global identities such as Unilever's ice cream Heartbrand or the Formula 1 World Championship logo for F1.
At the other end of the scale, working closely with much smaller companies such as Howies, allowed Phil and his team to express their creativity just as much, for which they've won numerous awards over the years.
Lynda Relph Knight
Lynda Relph-Knight is an independent design writer and consultant.
As editor of Design Week for more than 20 years, she understands all aspects of commercial design. Before Design Week she was an architectural journalist.
Keren House
Keren left Pentagram at the beginning of the 1980's to set up in partnership with David Stuart which, within a couple of years, led to the birth of The Partners. The Partners grew, won awards, moved from Shoreditch to Smithfield and won more awards.
Keren left The Partners and, at the end of the decade joined Design Bridge. In the subsequent decades she has been Creative Director for Siebert Head, Aricot Vert and Ziggurat, building and inspiring strong creative teams. mentoring, winning more awards and remaining involved with education.
John Bateson
John was both Creative Director and founding partner of Roundel, a London based design and communications consultancy.
Prior to joining Roundel in 1982, John was senior designer with the Media Group at The Open University and chief graphic designer at Concord Lighting International. Roundel handled a wide range of corporate and branding projects in the areas of manufacturing, transport, education and publishing leading the company to more than 100 D&AD and other international design awards.
As a founding member of the Transport Design Consortium in the 1980's Roundel created identity work to include  British Rail, London Underground,  Railfreight and the Kowloon & Canton Railway.