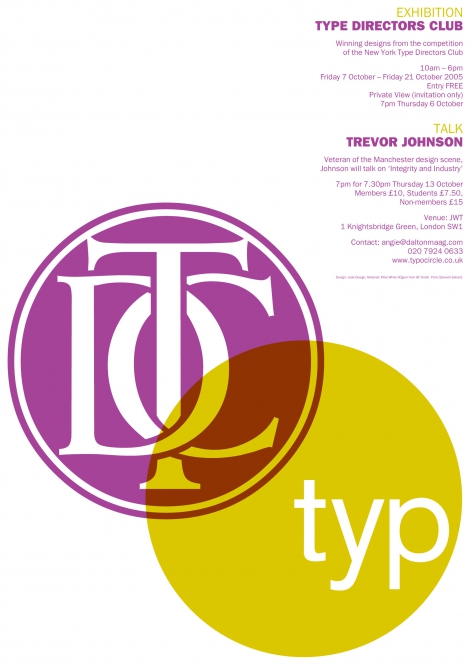 Event Details
JWT Building 1 Knightsbridge Green
London SW1X 7NW
7 October 2005 7:00pm
The Type Directors Club Exhibition showcases winning works from the three TDC annual international competitions, namely Communication Design, Typeface Design, and Title Design.
First showing in New York, the exhibition comes to London courtesy of The Typographic Circle.
The Type Directors Club is an international organisation whose purpose is to support excellence in typography, both in print and on screen. Founded in 1946 by some of the industry's leading practitioners, the TDC has been deeply involved in the graphic arts industry ever since. Its members include graphic designers, art directors, editors, multimedia professionals, students, and entrepreneurs.
Trevor Johnson is a Manchester-based graphic designer.
He started his career as a commercial illustrator and went on to become a freelance graphic designer, designing record sleeves and branding for Factory Records and Hacienda Nightclub Fac 51 which was instrumental in the creation of the Manchester music scene of the late 1980s and early 1990s. His designs created as Trevor Johnson and with his partner business Johnson/Panas for factory records are documented in the Factory Records Catalogue of sleeves and merchandise and company promotional material.