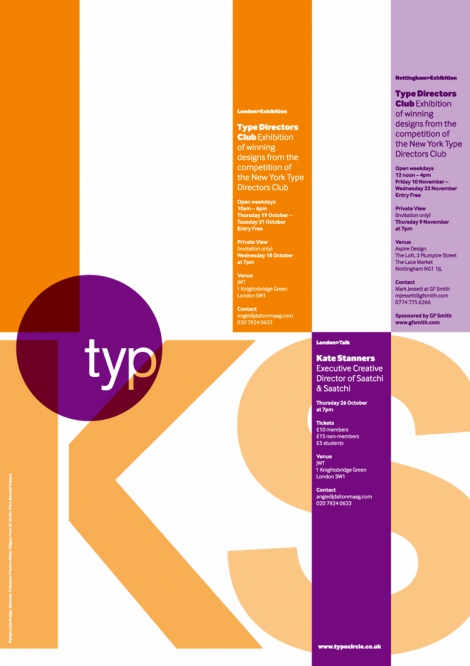 Event Details
JWT Building 1 Knightsbridge Green
London SW1X 7NW
19 October 2006 4:15pm
Kate Stanners is Executive Creative Director for Saatchi & Saatchi London, charged with changing Saatchi & Saatchi from an advertising agency into an ideas company together with the rest of the management team. The transformation is continuing with Kate leading a truly integrated cross-media approach to creativity.


Before arriving at Saatchi & Saatchi, Kate co-founded  BoymeetsGirl, an agency founded on the belief in the importance of delivering creative ideas to consumers for clients. Kate set up a multi-skilled creative team and worked with clients including Disney, DaimlerChrysler, Interbrew, Channel 4 and London Zoo.
Before this, Kate was Vice Chairman and previously Executive Creative Director of St Luke's, which she joined as creative director and, indeed, its first hire in 1995.  Within two years at St Luke's, she had amassed prolific new business wins including Clarks Shoes, Sky, IPC, COI, Boots and Eurostar, playing a significant role in the agency being named Campaign's agency of the year.
Kate was earlier a board director and group head at Bates Dorland, working on clients such as Bass Beer, Grolsch, P&O, Woolworths and Heinz. She moved to Bates Dorland from GGT, where she was a board director. During six years at GGT, Stanners created award-winning campaigns for Cadbury Flake, Cadbury Creme Eggs, Wispa, Holsten Pils, Access (Mastercard), Nurofen, Lurpak, and Seconda.

Stanners began her career at Liverpool Arts College in 1986. She is a member of WACL and the RSA, and sits on the IPA Council.