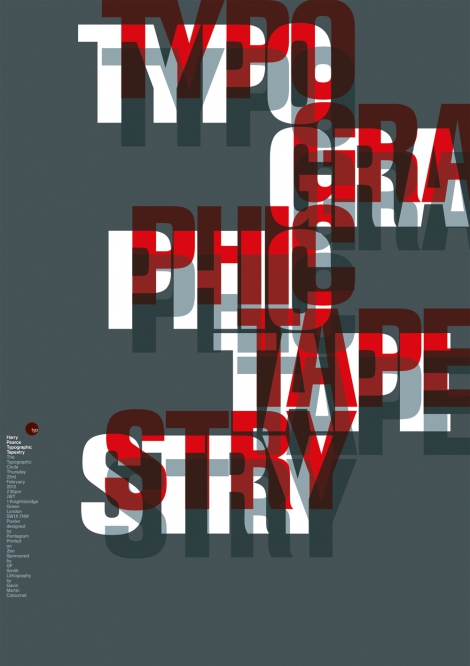 Typographic Tapestry
Event Details
JWT Building 1 Knightsbridge Green
London SW1X 7NW
23 February 2012 7:00pm
Harry Pearce joined Pentagram's London office as a partner in 2006 having co-founded and grown Lippa Pearce to become one of the UK's most respected design agencies over the previous 16 years.
His work touches many disciplines, from spatial design and identity to print, packaging and posters.
Encompassing the public and private sectors, local and global charities, and commercial enterprises, his diverse clients include Boots, The Co-operative, Halfords, Waitrose, Sainsbury's, Anish Kapoor and the 2011 Summer Exhibition at the RA, Phaidon Press, the Science Museum, Saks Fifth Avenue, UN and the Russian Police.
He is also a member of the advisory board for Witness working with Peter Gabriel for the human rights charity for over 17 years. In 2009 Harper Collins published his first book, a collection of typographic nonsense, Conundrums.
He regularly speaks at major international design conferences across the globe, including AGIdeas in Australia, Design Indaba, South Africa, Semi Permanent, New Zealand and Design Yatra, India. Speaking engagements have also taken him to New York and Chicago, as well as colleges, Museums and the Typographic Circle in the UK.

He is an active member of Alliance Graphique International and is a member of the Royal Mail's Stamp Advisory Committee.